Start Here!
Start Here!
College professors will usually require some scholarly (also academic, peer-reviewed) sources.
Three things to look for:
Was it written by experts? The authors are specialists in their field, list their educational background (e.g. PhD), and are usually affiliated with a university.
Is it based on research? The findings are based on a study conducted by the authors, or on a review of other expert literature. There will *always* be a bibliography or works cited list of the research used.
Who is the intended audience? Scholarly sources will use complex, expert language and be fairly lengthy. Most academic research is published in peer-reviewed journals or books, not freely available through Google.
Scholarly 

Popular

Journal articles,
book chapters

Magazines, newspapers,
most websites

Written by experts,
specialists, often with
university affiliation

Written by journalists;
orgs or govt agencies;
or author unknown

Based on research,
has a bibliography

Based on opinions &
experiences, no biblio

Longer,
complex language

Shorter,
easier to read

AKA: academic,
peer-reviewed,
empirical

AKA: mass media,
popular press
Is this Article Scholarly? Use this checklist to be sure your sources are scholarly.
And check out this information timeline to understand when and how information is published.
Articles and Books
Articles and Books
Articles
These databases have mostly scholarly articles:
The following databases have mostly popular press (mass media) articles:
See an article you want in one of these databases?
Click on the "Get it! @CSUSM" link
Look for "Full Text" in PDF or HTML format
If we don't own the full-text, simply fill out an Interlibrary Loan request. It's free for you to use and takes about 1 - 10 business days to arrive.
Any time you need help, reach out to the librarian listed on the right-hand side of this guide. You can also email libref@csusm.edu or try live chat during library hours.
Note: If you use Google Scholar, don't pay for articles from publisher websites! Find the full text for free through our library.
Search Strategies
Search strategies to get better results when searching a database:
Identify key concepts and synonyms
Use "quotes" around phrases
Use AND between different concepts
Use OR between similar concepts
Use an asterisk

*

to find word variations
Bonus: Use NOT to exclude concepts
Build your own search strategy (University of Arizona)
Citing Sources
Citing Sources
APA Style Guides
For APA style help, try these websites:
The library owns several copies of this citation guide. Please go to the 3rd floor Research Help Desk (RHD) and ask for a copy to use here in the building. The call number is BF76.7.P83.
Lalitha Nataraj
Social Sciences Librarian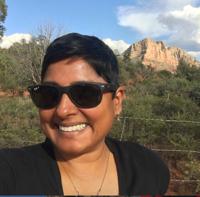 Email
Office Telephone
760-750-4070
Office Hours
By appointment