What is happening with Circuit and why?
Circuit is a resource sharing network that enables CSUSM students, faculty and staff to borrow materials from local San Diego County libraries (including UC San Diego, University of San Diego Copley Library and Pardee Legal Research Center, San Diego State University, San Diego County Library, and San Diego Public Library).
In 2017, the CSU system implemented CSU+, which is an expedited way of sharing library materials across CSU campuses. CSU+ allows users to easily borrow materials from any other CSU campus through each CSU's library catalog (OneSearch at CSUSM). A 2018 analysis of Circuit usage found that 84% of Circuit requests could have been filled through CSU+. At the same time, maintenance costs have increased and the Circuit system has experienced instability and issues relating to integration with other CSUSM Library systems.
Due to the duplication of service with the CSU+ service, as well as system instability issues and costs, the Circuit service will be discontinued at CSUSM on June 30, 2019.
How is CSU+ similar to Circuit?
Users request books or media with a couple of clicks.

The information about the book (title, author, publication date, etc.) is automatically populated in the request.

CSU+ materials are received quickly, usually within 2-5 days.

Users receive email notification of the status of their requests and books and media borrowed through CSU+ are included in their library accounts.

Books can be borrowed for same loan period (60 days).

Media (e.g., DVDs) can also be borrowed.

By signing in to OneSearch, the information about the requestor is automatically populated in the CSU+ request form.

There are no overdue fines or late fees, though lost items will incur a replacement charge.
More details about CSU+ borrowing can be found on our CSU+ Guide.
How will I get materials now that Circuit is going away?
CSUSM Library will continue to facilitate borrowing of materials from former Circuit partners through CSU+ (San Diego State University is a member of CSU+) and InterLibrary Loan (ILL) (in the case of all other former Circuit partners).
In order to place a request:
Start your search in OneSearch.
When you locate an item you want to request, click the "Get it through CSU+" link, which will prompt you to sign in with your CSUSM credentials in order to place the request.
If the CSU+ link is not visible, that means that a CSU library doesn't hold the item, but you can still request it through ILL by clicking the "Get it through Interlibrary Loan" link.
Interlibrary Loan (ILL) enables CSUSM Library to borrow materials from libraries all over the world. ILL can take slightly longer than CSU+ for materials to be received (up to 7-12 days).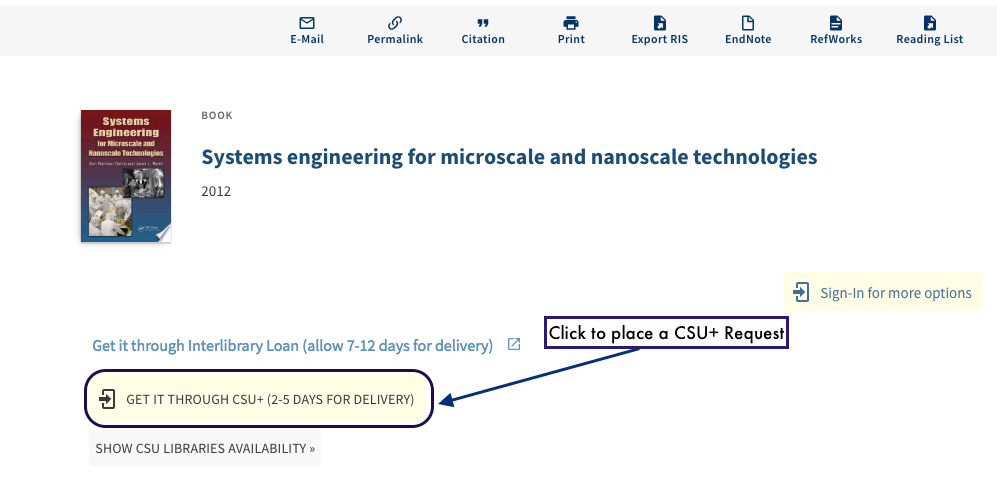 Note also that San Diego County Library will continue to be a part of Circuit, and library cards are free to residents of San Diego County.
I need to find specific materials that I can't always find in OneSearch - no CSU has them. How will I find them and request them?
If you cannot locate materials you need in OneSearch, try WorldCat. WorldCat is a database of library books and materials held at thousands of libraries worldwide. When you find a book you are interested in through WorldCat, use the "GetIt! @ San Marcos" link to check if the item is available at CSUSM, or the "Request through Interlibrary Loan" to send the item information to CSUSM's ILL system to place the request.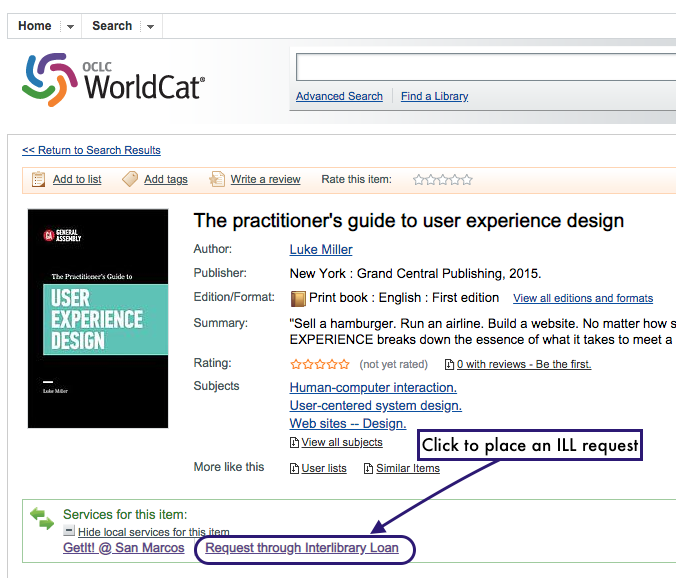 Important note: Off-campus, you must use the link to WorldCat from the Library's Research Databases by Title list and login as a CSUSM user when prompted in order to seamlessly place requests from WorldCat through CSUSM ILL. This is because when you are on campus, WorldCat knows you are a CSUSM user; but off-campus, you will need to login in order to be identified as a CSUSM user and see CSUSM's custom ILL links in WorldCat.
You can also directly fill out a request form for any items you need using the Library's ILL request form.
How can I get help finding materials and placing requests?
For help finding materials or conducting research, please contact your subject librarian or Ask a Librarian.
For questions or concerns about the discontinuation of Circuit or any other information on this page, please contact:
Lauren Magnuson
Head of Collections, Delivery and Access
760-750-4332
lmagnuson@csusm.edu
For all other questions, please fill out our Contact Us form.