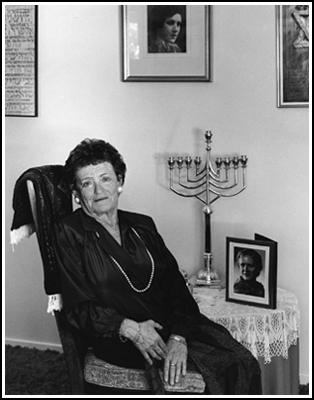 Multiply by Six Million: Portraits and Stories of Holocaust Survivors
The Context: Library Series is proud to present our Spring 2011 exhibit, Multiply by Six Million: Portraits and Stories of Holocaust Survivors.
Multiply by Six Million is a visually arresting and powerful first-person history of one of the defining events of the 20th century through photographic portraits and personal stories of Holocaust survivors. The exhibition showcases contemporary photographer Evvy Eisen's 15-year-long project to create portraits of survivors living in California and to collect their personal histories. By featuring individual survivor portraits and stories, Multiply by Six Million offers viewers a personal perspective on the Holocaust. Survivors tell their stories in hopes that the seeds of today's intolerance and bigotry are recognized in time to prevent tomorrow's genocides. The exhibition describes the horrors that the survivors experienced in Europe during the Holocaust and how they then came to the United States to create meaningful lives and contribute to society in their adopted county. Survivor Frank Roubicek shares, "The horror years of the wartime taught me how to appreciate the basic values of life and to fully appreciate the good things it has to offer." Multiply by Six Million includes 38 stunning black and white photographs, a 24 minute DVD, several related books, and an album of additional survivor portraits. Narrative text allows visitors to understand historical events in Europe leading up to the Holocaust and contemplate current concerns about intolerance and genocide. Critically lauded, the project works are included in the archives of the United States Holocaust Memorial Museum in Washington DC, the Simon Wiesenthal Center in Los Angeles, and the Centre de Documentation Juive Contemporaine in Paris, France. The Multiply by Six Million exhibition tour was organized by the California Exhibition Resources Alliance (CERA), with support from photographer Evvy Eisen (http://evvyeisen.com/holocaust-survivors/holocaust-survivors-photos/). On display at University Library, California State University San Marcos (CSUSM), from February 18-April 18, 2011. Free and open to the public during all Library hours. For more information, directions, or to join our email list for upcoming exhibits: mchu@csusm.edu or 760.750.4378 Exhibit co-sponsored by CSUSM Arts & Lectures and Instructionally Related Activities.