Meet the Artist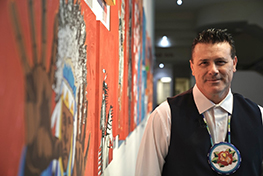 Comanche artist Eric Tippeconnic is an enrolled member of the Comanche Nation on his father's side and his mother hails from Copenhagen, Denmark. Eric's interest in painting and art was heavily influenced while growing up on numerous reservations and Indigenous communities as well as from traveling to Denmark each summer to visit his mother's side. Eric's cultural diversity and love of history and art from an early age helped develop his interest and passion for creating art from the moment he could hold a pencil. Using bright, rich and vibrant color combinations, Eric utilizes his artwork to capture movement that serves as a metaphor for the viewer which boldly states that Indigenous American cultures while intimately connected to their history are in fact contemporary, alive, and constantly evolving.
Eric completed his PhD in History at the University of New Mexico. He is the first Comanche to receive a PhD in the field of History. Eric resides in southern California with his family and teaches at California State University San Marcos in the American Indian Studies department. M
ore information about Dr.
Eric Tippeconnic's artwork
can be found here:
https://www.erictippeconnic.com