Exhibit Events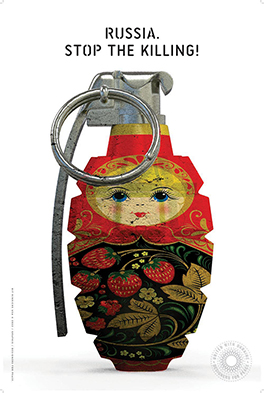 Artists Reception

Reception: Thursday, October 26th
Reception Time: 6:00pm-8:00pm
Speaker: Kit Hinrichs
Location: Kellogg 5400 Reading Room
Join the CSUSM University Library in welcoming Kit Hinrichs and fellow arts for a discussion on the collaboration to create Graphis Designers for Peace collection on display in the 3rd floor exhibit area of the Library.
Artist Statement: Graphis and Studio Hinrichs' Kit Hinrichs collaborated to launch a call for entries, which received a resounding response from around the world in the wake of the Ukraine invasion. The resulting collection of poster art represents a powerful and impassioned global call for peace, showcasing an unprecedented level of collaboration and creativity. This exhibition is a testament to how a single cause can unite people from all walks of life, and how visual storytelling can inspire powerful emotions and drive action. Join us as we explore the moving artworks that demonstrate the potential of humanity's collective strength and shared goals. The majority of posters on display were created after the beginning of the Russian invasion of Ukraine. Graphis invites the public to see these timely works of art through the eyes of today's designers at various venues around the globe. Graphis Designers for Peace can be viewed in person at the Library's 3rd floor exhibit space.
RSVP Required at: bit.ly/Fall2023ContextEvent
Event details and parking instructions will be emailed prior to the event.
Please contact Rosa Rodriguez, CSUSM's Outreach Librarian for questions: ryrodriguez@csusm.edu