Meet the Artist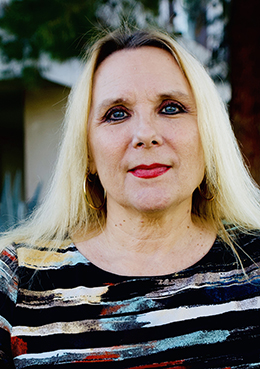 The RED, PRIDE & BLUES of a MILITARY B.R.A.T. is a collection of mixed media works of art created by Marilyn (Finley) Huerta, a CSUSM double alumna (B.A. in Visual Arts and M.A. in Sociological Practice) and the Public Affairs Communication Specialist II for the College of Education, Health and Human Services. She also teaches "Art Healing" for the CSU Shiley Haynes Institute for Palliative Care, is a Council Member for the Military Affairs Council for North San Diego Chamber of Commerce, and serves as the Communication Director for VETART.Org.
Marilyn wears many hats and one of those is to advocate for our military services. Growing up as the daughter of a Vietnam Veteran and born to a teen mother on a military base, has played a big part in what drives her advocacy and instills her loyalty to family.
"When living abroad, your family is sometimes all you have," Marilyn said.
Marilyn is passionate about serving those who serve our country. As a child, she remembers many nights hosting G.I.s at her family's dinner table when they didn't have a home to go home to.
"Whether you're an active service member, a veteran, a spouse, a dependent child or military-affiliated, you are connected; you are family," she said.
The exhibit contains paintings and mixed media pieces that focus on the importance of family, faith, and country. It also speaks of loyalty, love, loss, and strength. Several of the art pieces reflect her mother and grandmothers who supported her and took care of the homeland for Marilyn and her little brothers when her father was deployed. Another piece honors the 13 fallen service members killed in Kabul, Afghanistan on August 26, 2021.
"Any time a military member is lost, it affects more than just that member's immediate family. The loss is felt across the nation," she said.
Marilyn grew up on military bases and she and her two younger brothers were accustomed to participating in vigils when a servicemember was missing or lost in action. As a young child, she wore a metal bracelet on her wrist, with the name of a P.O.W. until they were brought home. She learned to stop and pay respect every time Taps played on base, and she takes pride in standing at the National Anthem, which still gives her chills and brings tears to her eyes every time she hears it play.
The "Family Bloodline" art piece hangs from a broken tree branch and depicts images of many of the veterans in her maternal, paternal, and individual family unit. Two of her older children lived the role of a "military B.R.A.T."1 and knew what it was like to continuously move from one home to another. Marilyn's two younger children became veterans themselves. The military is Marilyn's culture and she embraces it, even though she isn't a veteran herself.
In the exhibit, a small wood piece with burned etches represents a stack of suitcases that she and her little brothers, Marc and Larry, carried when traveling to and from Germany. Another piece represents the blue church that her Mama helped to develop back south. One mixed media piece depicts "Rosie the Riveter" and is collaged with photos of her grandmothers representing the strong women in her family that led her way, and another painting is of Little Larry learning to salute their father. A framed acrylic piece that Marilyn painted reminds her of her father's combat boots but also depicts her husband's boots when she followed in her mother's steps and became a military spouse herself. On the floor beneath this painting sits four pairs of sculptured shoes made of plaster. These shoes and boots hold many memories and meanings for Marilyn as they remind her of being the mother of four children and the memories of seeing combat boots near the front door in many of her homes. They also represent the leadership skills children learn in a military family, but also represent the youth we send into combat.
Earlier in the year, Marilyn visited Santa Margarita Elementary School at Camp Pendleton, where two of her older children once attended, and she facilitated an art healing project with children whose parents are active in the Navy or Marine Corp Navy. Approximately 50 students participated by painting and gluing objects to paper face masks as a team-building activity. The children expressed what it feels like when a parent is deployed or when the children have to move away from friends and families. Twenty-eight masks are displayed at the exhibit.
Red Poppies2 and the American red, white, and blues, appear throughout the exhibit and express how proud Marilyn is of her family, being a part of this culture and how lucky she feels to be born in the U.S.A.
1 B.R.A.T. – Pertains to those children who grew up in military families. "Brats" wear the name like a badge of honor, often because of the moves, stressors, and cultural experiences that make them more resilient than their civilian counterparts. Definitions are unclear but many declare that the BRAT acronym stands for British Regiment Attached Traveler and in the 18th century it was a contraction for 'Barrack Rat' (US DOD, 2022).
https://www.defense.gov/News/Inside-DOD/Blog/Article/2060438/military-brat-do-you-know-where-the-term-comes-from/
2During WWII, millions of soldiers saw the poppies growing in the Flanders fields on the Western Front battlefield. Poppies are a symbol of remembrance that we share and wear on Memorial Day each year to honor our service members we've lost.