Getting Started
Getting Started
As "The Love Song of J. Alfred Prufrock" by T.S. Eliot is arguably the best known of his shorter works, it should not come as a surprise that there are many sources available where this is written about, derived from, or referred to.
Being as that you have all ready read the poem, what you now need to find in the library resources are works that assist you in analyzing the work and Eliot's intent in order to make your argument.
That is what this page is for. There are many places to look, some more easily navigated than others, and a wide variety in quality of scholarship.
Let's find the best with the least amount of work!
Research Help is still available during remote instruction!
Email or chat your subject librarian using the contact information on the right of this page. We can provide remote research assistance via Zoom (which allows for screensharing), chat, email, and phone.
Books & Catalog
Books & Catalog
You can find useful chapters in scholarly books that critque this work from a variety of aspects.
Some ways to search are:
The ever-popular keyword (default) search using the term PRUFROCK--
You will find yourself digging through irrelevant and unscholarly material to get the 'good stuff'.
The subject term PRUFROCK--
provides a more focused result, but not many sources.
What about searching for criticism of Eliot? Specifically his poetry, or analysis of his work. "Prufrock" was not written in a vaccum, it was one of many works produced and many scholars have written on Eliot.
Try a subject search on Eliot. T. S and look for criticism as a sub-heading.
And that is just books! Let's look at articles in the databases next...
Articles & Databases
Articles & Databases
There are several ways to access articles through the Library and the thorough researcher will explore them all to find the best and most relevant resources for their paper. The following are listed from the not so useful to the most useful.
1) The Discovery Search is the default search tool on the library home page. This searches almost everything CSUSM has and because of that, I do not recommend it as a place to start because you will have too much that is not relevant to sort through.
2) Articles+ searches most of our full text databases. Note the "almost" as there are collections it does not search due to software incompatibillity. Again, not where I recommend to start, but it is better than Discovery.
3) Specific databases! These are the best choice as they are most focused on your disciplinary needs, rather than gathering from any old source. The databases I recommend are:
Literature Criticism Online is collected from the entire span of intellectual thought. In this source, you will find criticism contemporary to Eliot through material published in the past few years.
MLA International Bibliography as it is THE source for literature research, but be aware it has some limitations (explained on the MLA tab.)
There are other databases as well such as JSTOR, but MLA is really the place to start and will generally point you to those other databases, so start with MLA and the tricks on the next tab. 
MLA Searches
MLA Searches
MLA Database Tips
Using the MLA International Bibliography begins with a search. The bibliography offers many search options, which can be selected and combined to tailor the results to the researcher's specific needs. These options include
literary authors and their works (e.g., "Achebe, Chinua"; "Things Fall Apart")

subject terms, including people, characters, places, periods, movements, and subject matter (e.g., "Wordsworth, William," "Lake District," "1700-1899," "Romanticism," and "landscape")

titles of articles, books, and other scholarly works indexed in the bibliography

academic authors and their works (e.g., "Butler, Judith"; "Gender Trouble: Feminism and the Subversion of Identity")

language of publication (e.g., "French language")

date of publication (e.g., "2014," "2005-2015")

limit to peer-reviewed journal articles
A searchable list of all the subject terms in the bibliography and their related terms can be found in the MLA Thesaurus, included with every subscription. 
The MLA International Bibliography also includes the Directory of Periodicals, which lists journals and book series indexed in the bibliography and provides extensive editorial information about them. Search the Directory of Periodicals to find a list of journals and book series on a given subject or to find detailed information on a specific journal or book series. Depending on which vendor provides the bibliography, you may see a separate link to the Directory of Periodicals on your library's list of databases, or the directory may be accessed from the bibliography's home page.
Results List from a search on Moll Flanders:
General Information:
--Title of the entry (whether article, book, book chapter, etc.) is the hyperlinked line. Click here to see more information on the entry.
--Author is the person(s) who wrote the article, not the subject of your study.
--Source notes the title of the journal or book that this entry is from.
--Volume, year of publication, and pages within the source are given and needed for any citation or loan request. Books, book chapters and dissertations will also have publisher listed with place of publication.
--Book Article denotes a chapter in a larger work. You would search the CSUSM catalog for the BOOK title, not chapter title.
GET IT Button
This icon will link you to the full text if available in other databases provided by CSUSM. The link is not successful on searching book chapters, so double check the catalog by the book title. 
Torie Quiñonez
Arts and Humanities Librarian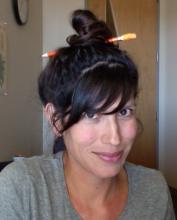 Email
Office Telephone
760-750-4353
Office Hours
By appointment