Comm 402: Context
Comm 402: Context
In order to fully analyze your artifact, you must first situate the artifact in both the historical and scholarly context.
The historical context will help you understand the time period during which your artifact was created: what was the social and political climate during that time period? How does the artifact fit into the conversation at the time?
The scholarly context will help you understand how scholars discuss your artifact, and artifacts like yours.
Watch a video lecture to learn more about researching your context.
Databases
Databases
Most Useful
Database
Full Text
Coverage
Scholarly
Communication & Mass Media Complete (Via Communication Source)

Provides abstracts and full text for more than 200 communication journals.

Some full-text; plus links to full-text via Get-It

1950 to current
Some
Linguistics and Language Behavior Abstracts (LLBA)

Provides abstracts of articles from about 2,000 journals (published worldwide), coverage of recent books, book review citations and dissertation listings.

Links to full-text via Get-It

1973 to current
All
Academic Search Premier

This scholarly collection offers information in nearly every area of academic study including: computer sciences, engineering, physics, chemistry, language and linguistics, arts & literature, medical sciences, ethnic studies, and many more.

Some full-text; plus links to full-text via Get-It

1975 to current
Most
Also Useful
Database
Full Text
Coverage
Scholarly
ERIC

A national database of education literature, including reports and journal articles.

ALERT! Within ERIC search results: IF the "Link to ERIC full text" does not work, try the "Get It!" link.

Links to full-text via Get-It

1966 to current
Some
Sociological Abstracts

Provides access to the latest international findings in theoretical and applied sociology, social science, and political science.

Links to full-text via Get-It

1963 to current
All
Use these databases to explore different types of news sources. Most of what you will find in these databases are news articles, which are very useful, but are non-academic, and not scholarly.
Most Useful
Database
Full Text
Coverage
Scholarly
New York Times (Historical Collection)

The New York Times Historical Collection provides full page and article images including the NY Daily Times (1851-1857). The most recent four years not included in this historical collection can be searched through ProQuest Direct, LexisNexis or Factiva.

Full-text

Archive
None
Los Angeles Times (Historical)

Archival issues and articles beginning with 1881. Issues published during the past twenty-four years are not available in this database. Check ProQuest or Factiva databases for the material not held in this collection.

Full-text

Archive
None
Ethnic NewsWatch

Full-text ethnic newspapers, searchable in English or Spanish.

Some full-text; plus links to full-text via Get-It

1992 to current
None
GenderWatch

GenderWatch contains publications which focus on how gender impacts a broad spectrum of subject areas. GenderWatch is a repository of an important historical perspective on the evolution of the women's movement and the changes in gender roles.

Full-text

1970 to current
All
African American Newspapers, 1827-1998

Newspapers digitized from 37 states chronicling African American experiences and influence in a variety of events from the early 19th through late 20th centuries.

Full-text

1827 to 1998
None
Hispanic American Newspapers, 1808-1980

Spanish and English language newspapers offering news, advertisements, opinion and more from across the nation reflecting contemporary thought and activity.

Full-text

1808 to 1980
None
Also Useful
APA Style
APA Style
Citing sources is expected in scholarly communities and is almost always required in research papers. Scholars cite:
to give credit where credit is due;
so your reader (professor) can find the source that you mentioned in your assignment;
to add credibility to your research - shows you did the work;
and to avoid plagiarism!
Not sure where to start? Review this Flow Chart of the citation process before you continue!
APA Style
APA stands for the American Psychological Association. This is the preferred citation style of many of the social and behavioral sciences. Always remember to check your assignment guidelines or ask your professor which citation style they prefer for your work.
Please note that the seventh edition of the Publication Manual of the American Psychological Association was released in October 2019.  The American Psychological Association expects students and professors to transition to this new edition in the spring of 2020 or thereafter.  The CSUSM library is awaiting the delivery of the new guides and the transition of other reliable sources to the 7th edition before updating its own citation guide. If you are required to use the 7th edition prior to our updating our APA page, please go directly to the APA's Style and Grammar Guidelines website or contact a librarian directly for assistance.
Official APA Style Manual Resources
APA Style Manual (BF76.7 P83 2010)  Publication Manual of the American Psychological Association: the most current APA style manual is available at the University library. Click on the above link to find a copy. 
The official APA website  Off campus or need APA guidelines right now? Access the official APA website for citation help by clicking the above link. This site has useful tutorials and up-to-date facts about citing in APA.  
Helpful Online Resources
Also Helpful: Citation Generators
Zotero  Zotero is a tool for storing citations and generating bibliographies using data collected from the library catalog or websites such as Amazon or Google. For more information on using Zotero, see our Zotero Guide. Always double check your results with citation generators, they are not always perfect!
KnightCite Citation Service   This citation generator formats your citations for you. This can be a convenient tool, especially if you have a lot of sources to cite, but it is NOT 100% accurate. ALWAYS check an additional resource like the APA Manual or Purdue OWL to make sure that the citation is formatted correctly!
Sample Papers in APA format
Allison Carr
Academic Transitions Librarian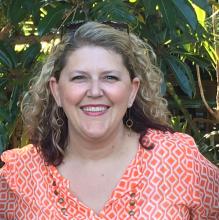 Email
Office Telephone
760-750-4337