The Library is open 24/5 because of ASI and all CSUSM students! In Fall of 2016, financial support for 24/5 Library access was included in a student fee referendum sponsored by ASI. That referendum passed, and your student fees now fully support this service.
When is the Library open 24/5?
The 24/5 Zone is open 24 hours beginning at 10AM Sunday-5pm Friday during the Fall and Spring semesters.
What part of the Library is open 24/5?
The 24/5 Zone covers about half of the Library's 2nd floor, which can be reached through the Craven Circle entrance. This includes the recently renovated 2

nd

floor lobby, the Media Library, the Academic Success Center, the main Kellogg computer lab (KEL 2000), and seven group study rooms.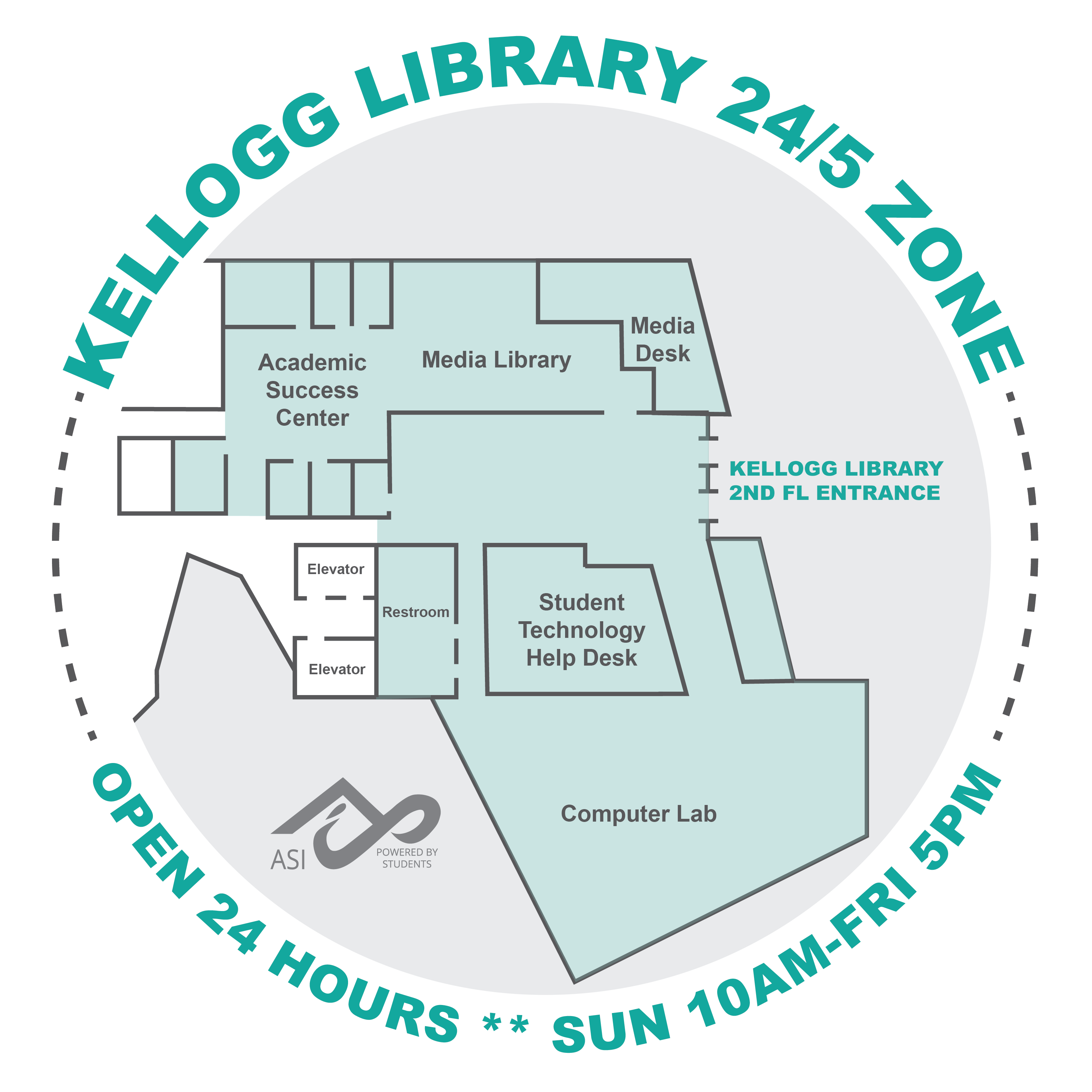 Who can use the 24/5 Zone?
This service is fully supported by student fees and uses no public funding, so between midnight and 6am the 24/5 Zone is reserved for CSUSM students, staff, and faculty with a valid/current university ID. Current CSUSM Alumni Association members with a valid membership card are also welcome. The University Library is open to the public use during all other operating hours.
Do I need my ID card to access 24/5?
Absolutely. Please don't forget to bring your CSUSM ID or digital campus ID. If you're an Alumni Association member, bring your Alumni Association membership card and/or Library-issued Alumni ID card!
Why do I have to sign in and out?
Like many services and centers at CSUSM, the Library collects general data on use of the 24/5 Zone in order to understand its overall benefit to students. We want to make sure we're providing the best possible services, and building insight into when and why people are using the 24/5 Zone helps us achieve this.
Where can I park?
Campus lots are open 24 hours with the exception of lots X, Y, and Z. Parking day passes expire at midnight, and will need to be re-charged at the lot or via the CSUSM App. Lot C is closest to the 24/5 Zone entrance off Craven Circle.
In order to accommodate the University Library 24/5 schedule, registered vehicles with a valid virtual XYZ permit may park:

Each night: Sunday – Thursday between 8:30pm – 5:59am
in Lot C only

Vehicles with a valid virtual XYZ permit – parked in Lot C for 24/5 access – must be removed from Lot C daily (Monday morning – Friday morning) by 6:00a