Books often provide a broader treatment of a topic or issue. A book on the issue you are studying can provide background and a base of knowledge. A research project always needs some sort of background or context before discussing the focused issue.
You can also request books from other libraries through CSU+ and InterLibrary Loan (ILL).  
In order to place a request:
Start your search in OneSearch.
When you locate an item you want to request, click the "Get it through CSU+" link, which will prompt you to sign in with your CSUSM credentials in order to place the request.  
If the CSU+ link is not visible, that means that a CSU library doesn't hold the item, but you can still request it through ILL by clicking the "Get it through Interlibrary Loan" link.
Interlibrary Loan (ILL) enables CSUSM Library to borrow materials from libraries all over the world.  ILL can take slightly longer than CSU+ for materials to be received (up to 7-12 days).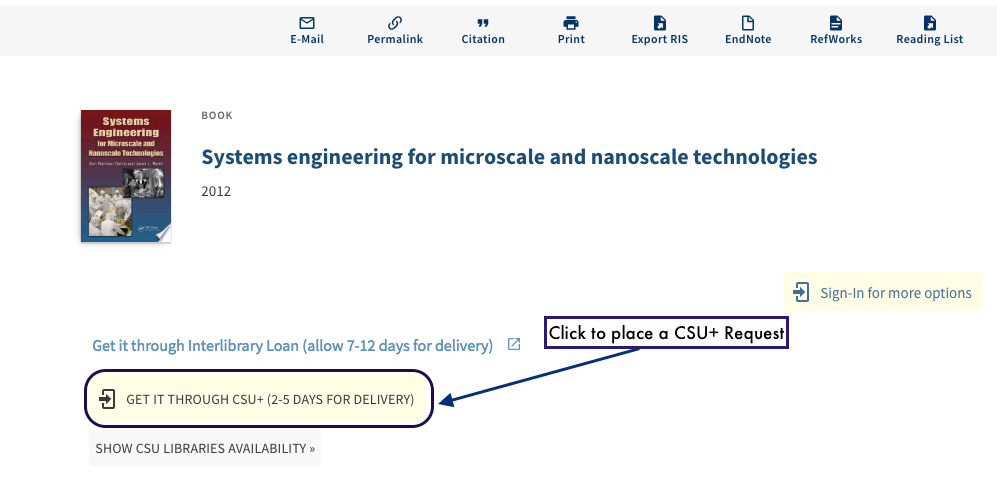 I need to find specific materials that I can't always find in OneSearch - no CSU has them.  How will I find them and request them?
If you cannot locate materials you need in OneSearch, try WorldCat.  WorldCat is a database of library books and materials held at thousands of libraries worldwide.  When you find a book you are interested in through WorldCat, use the "GetIt! @ San Marcos" link to check if the item is available at CSUSM, or the "Request through Interlibrary Loan" to send the item information to CSUSM's ILL system to place the request.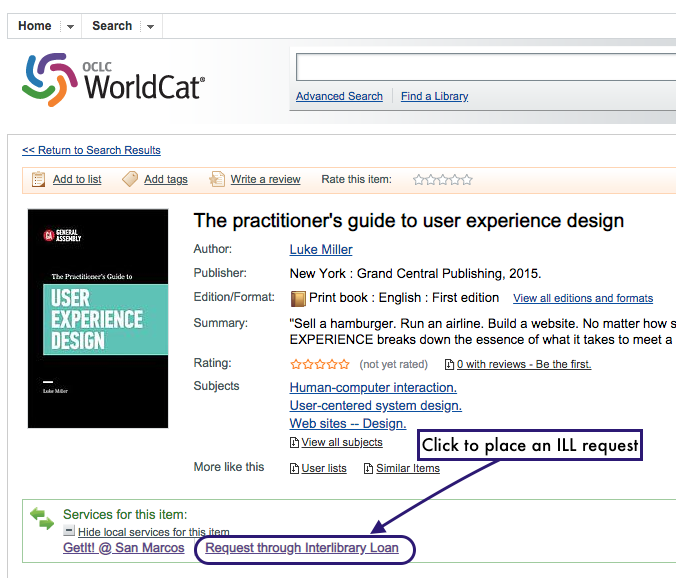 Important note: Off-campus, you must use the link to WorldCat from the Library's Research Databases by Title list and login as a CSUSM user when prompted in order to seamlessly place requests from WorldCat through CSUSM ILL.  This is because when you are on campus, WorldCat knows you are a CSUSM user; but off-campus, you will need to login in order to be identified as a CSUSM user and see CSUSM's custom ILL links in WorldCat.
You can also directly fill out a request form for any items you need using the Library's ILL request form.