There are several ways to determine whether or not an article is scholarly or peer-reviewed. It's important to note that some articles published in a peer-reviewed journal may not actually be peer-reviewed. For example, book reviews, editorials, and news items do not undergo the same review process as research articles. Databases will generally give a visual indication as to whether the article is scholarly.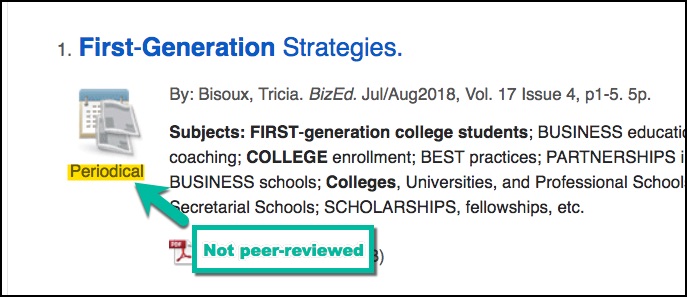 The purpose of a scholarly article is to inform and disseminate original research to scholars. Readers should ask the following questions when trying to determine if an article is scholarly (peer-reviewed):
What to Look For in a Scholarly (Peer-Reviewed) Article
Who are the authors?: Generally other researchers or scholars in the academic discipline and/or field.
How is it written?: Scholarly articles contain vocabulary that is technical and specialized according to discipline; audience is generally scholarly peers in that field of study.
What does it look like?: Scholarly articles may include quantitative data in the form of graphs, charts, and tables supporting research; delineated sections: abstract, literature review, methodology, results, conclusion, and bibliography.
How are the sources cited?: Scholarly aticles contain an extensive bibliography and footnotes which are formatted according to research discipline (e.g. MLA - Humanities; APA - Social Sciences, CSE - Sciences).
If you need additional assistance, please ask a librarian.