What is ASA style?
ASA stands for the American Sociological Association. It is the citation style used by many sociologists, and it is the style used in all ASA journals.
Official ASA Style Guide
This is the official ASA manual published by the American Sociological Society. The CSUSM Library currently offers copies of the 5th edition.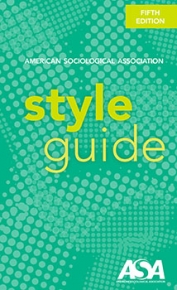 Helpful Online Guides
Sample Papers in ASA Style
There are currently no sample papers available in ASA style. The following links offer guidance on how to format an ASA-style paper.